Commission Calls for Integration of Oncology and Palliative Care
October 26, 2018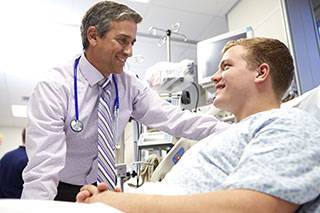 A recent Lancet Oncology Commission laid out why oncology and palliative care should be integrated and how to achieve successful integration despite barriers.
A Lancet Oncology Commission laid out why oncology and palliative care need to be integrated and how this integration can be accomplished.1 The Commission on the integration of these 2 disciplines was published online October 18, 2018, in The Lancet Oncology.1
"All too many patients with cancer will die in pain, fear, or confusion, or with goodbyes unsaid, having spent the last few months of their lives experiencing treatment-related adverse events," wrote Deputy Editor Cassandra Coburn and Editor in Chief David Collingridge of The Lancet Oncology in a corresponding commentary.2 "The steps outlined to integrate oncological and palliative care in this Commission will hopefully provide a roadmap to bring us much closer to achieving a good life — and a good death."
Detailed in the Commission are the benefits of integration, which include improved survival, symptom control, quality of life, and health care resource utilization, as well as promotion of more patient-centered care.
However, barriers to integration persist. They include the lack of international standards of the organization, education, and research of palliative care. Also, the common misconception that palliative care is intended for end-of-life care only, and the lack of infrastructure and funding both serve as barriers. "Currently the USA and UK spend around 1% of their cancer research budgets on palliative care," Coburn and Collingridge wrote.
To successfully integrate oncology and palliative care, the Commission authors proposed implementing multidisciplinary teams and standardized care pathways. The authors also call for better education programs.
"Patient-centred care should be an integrated part of oncology care independent of patient prognosis and treatment intention," the Commission authors wrote. "To achieve this goal it must be based on changes in professional cultures and priorities in health care."1
References
Kaasa S, Loge JH, Aapro M, et al. Integration of oncology and palliative care: a Lancet Oncology Commission [published online October 18, 2018]. Lancet Oncol. doi: 10.1016/S1470-2045(18)30415-7
Coburn C and Collingridge D. A step towards dignity in life and death [published online October 18, 2018]. Lancet Oncol. doi: 10.1016/S1470-2045(18)30605-3