Thai Curry Carrot Lentil Soup
Warm of from the inside out with this flavorful Thai Curry Carrot Lentil Soup. A filling soup recipe to enjoy for lunch or dinner with plenty of plant-based protein and a full serving of veggies!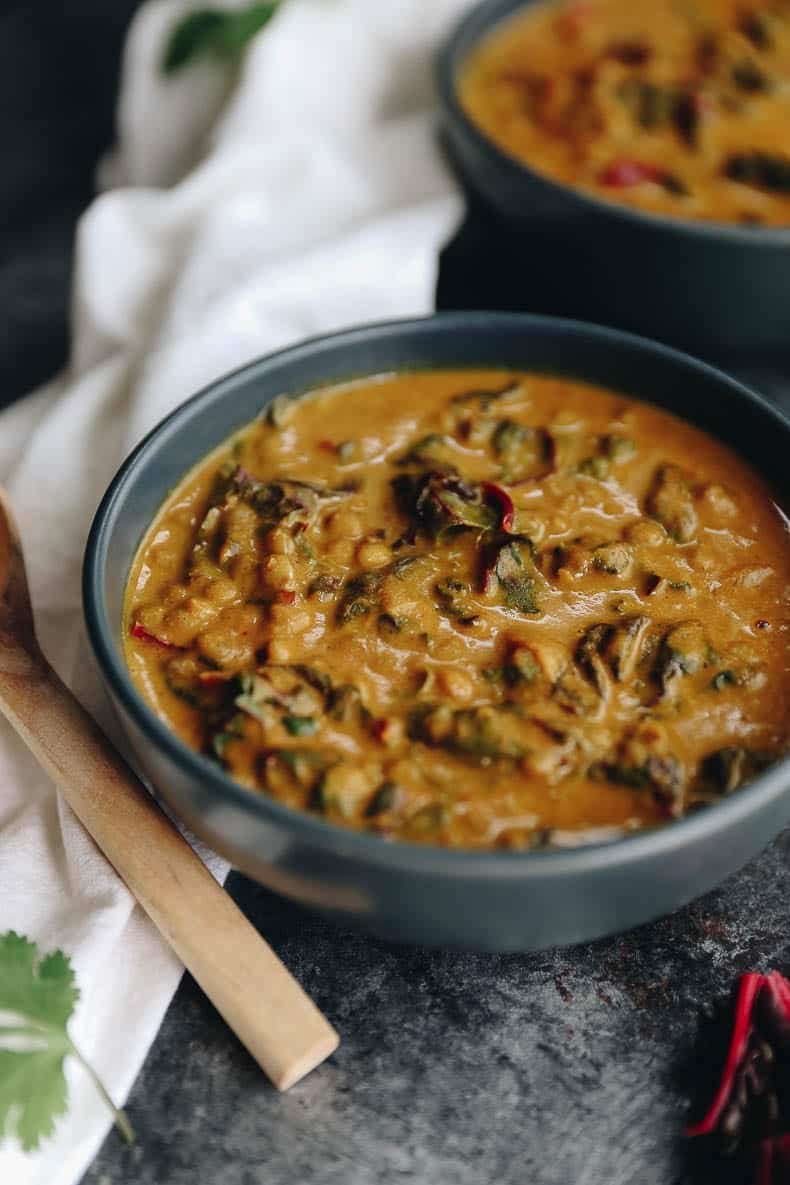 IT'S SOUP SEASON!!!! If you're at all questioning my excitement around soup season I should probably direct you here. There are, without question, more soup recipes on this blog than anything else. I am a die-hard soupy – so much so that I used to dedicate January-March as SOUPER SUNDAYS with a new soup recipe each week.
…and then I moved to California. That's not to say I don't eat soup here, it's just that the whole lack of seasons has totally thrown me off. Summer is winter and fall is summer. Winter is rainy and spring is a crapshoot. Now throw all those ideas in a blender and you have the weather patterns of San Francisco.
I should add that I'm currently writing this in a tank top with the sun shining and according to my phone it is 73 degrees outside…in October. So yes, my excitement for soup season is real, except that it exists everywhere except in San Francisco.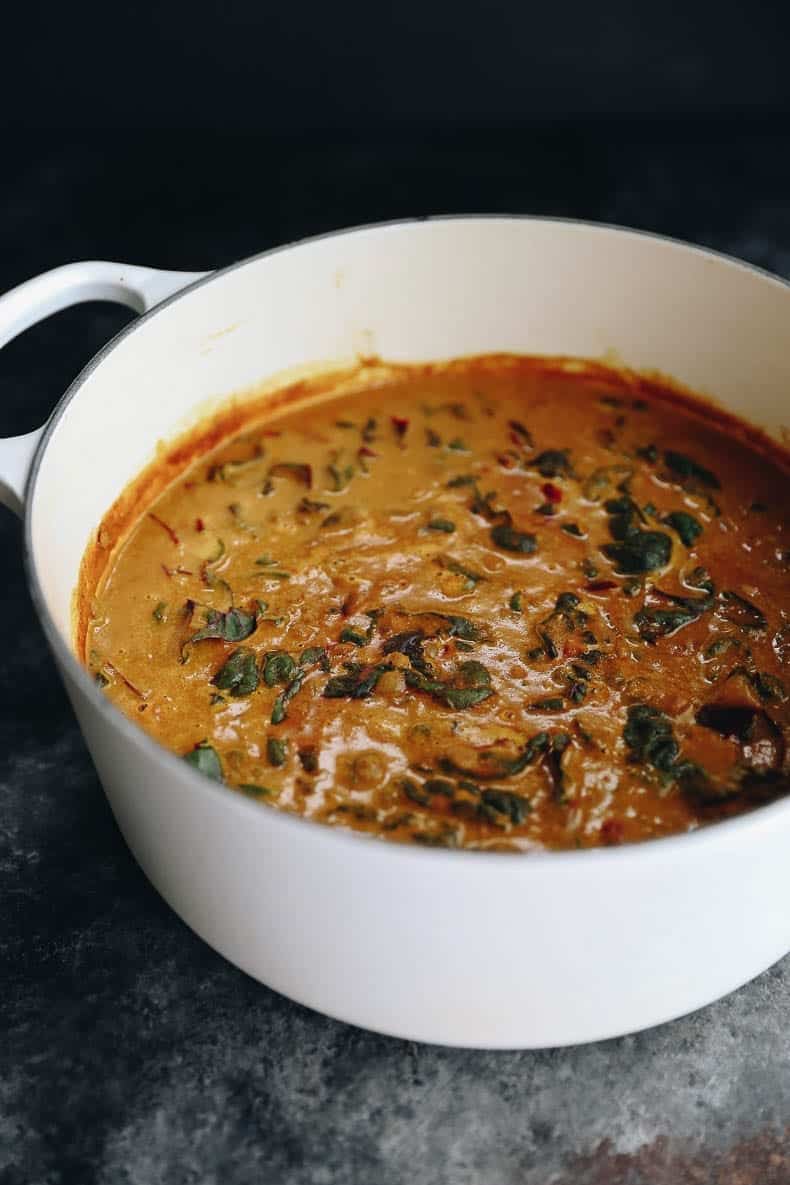 But that wasn't going to stop Jess and I from coming up with some delicious soup recipes for you, including this thai curry carrot and lentil soup. It actually started a few months ago on a cold August day (otherwise known as #fogust) while Jess and I were cooking up some recipes. I told her I had been craving a carrot lentil soup but was stuck on a new way to flavor it. Not that the plethora of soup recipes on the blog aren't delicious. It's just that I'm always looking to try out new things.
So I put Jess on the task to elevate carrot soup, add some plant-based nutrition and make sure that it's filling. To say that she nailed it would be an understatement. So much so that I'm considering putting her on the task of souper sundays in 2019. What are your thoughts???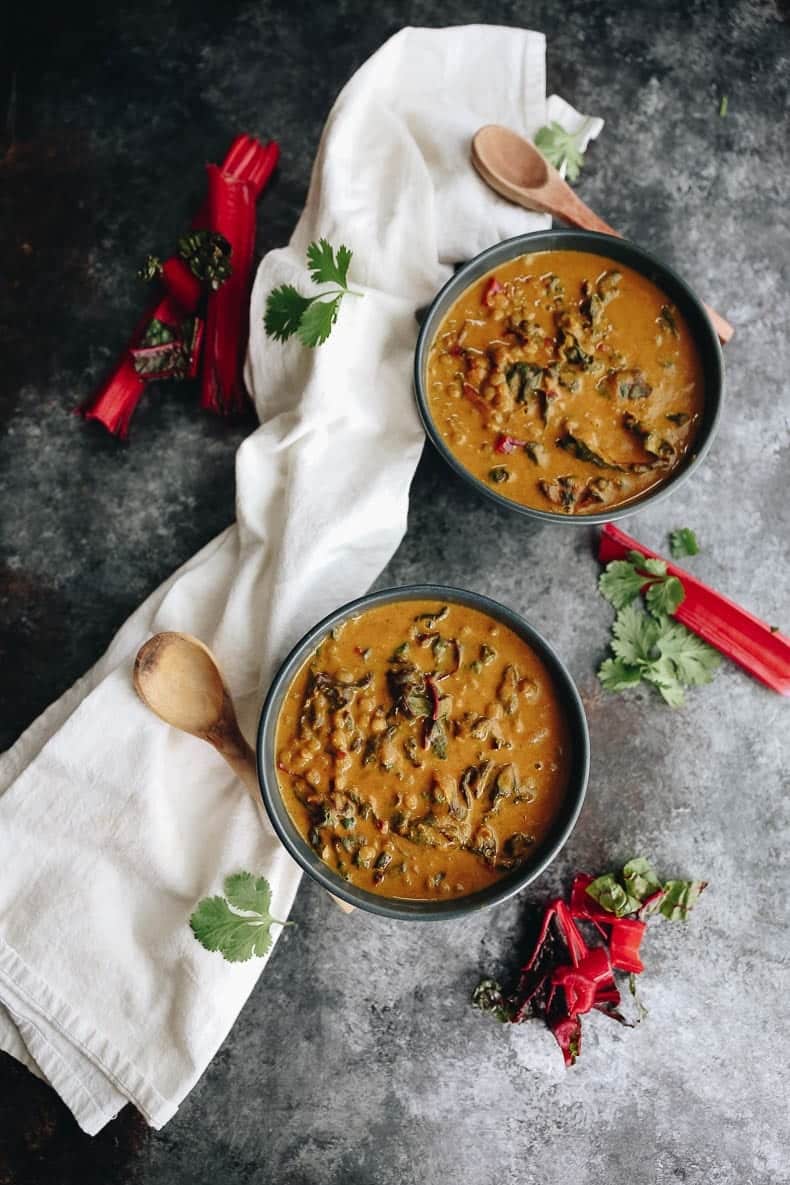 If you're living in the Northern Hemisphere and fall has officially sprung, this soup is for you. And if it's Fogust and you're a tourist in San Francisco who was advised to wear shorts and a t-shirt instead of a down coat and a scarf, this soup is for you.
But who am I kidding? I eat soup year round and this thai curry carrot lentil soup is no exception!
Thai Curry Carrot Lentil Soup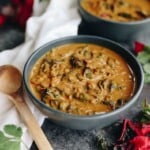 Author:
Prep Time:

40 minutes

Total Time:

40 minutes

Yield:

6 servings
Ingredients
5 tbsp avocado oil, or other high heat cooking oil
1 onion, sliced
1 ginger root (half the size of the palm)
3 tsp cumin
2 tsp coriander
2 tsp red curry paste
1 tsp turmeric
3 carrots, peeled and sliced
1 can full fat coconut milk (15 oz)
3 cups low sodium vegetable broth
1 stalk of lemongrass, r

emove tough outer leaves and use the tender inside part

2 tbsp coconut aminos
1 tbsp rice wine vinegar
1 tbsp maple syrup
2 tsp fish sauce
1 lime, juiced
1.5 cups lentils
Optional serving suggestions: brown rice, quinoa or cauliflower rice, avocado, cilantro, coconut/greek yogurt, toasted coconut.
Instructions
Sauté ginger and onion in the avocado oil over medium heat until onions are soft, about 5-7 minutes.
Add the spices and curry paste to the pot and continue to cook for another 5 minutes. Season with salt.
Add the carrots to the pot along with the coconut milk and vegetable broth. Add the lemongrass. Season with another pinch of salt.
Bring to a simmer and cook until the carrots are soft, about 15 min. While the soup simmers cook the lentils according to the directions.
Once the carrots are soft, transfer the soup to a high speed blender and blend until smooth. Alternatively, use an immersion blender.
Transfer the blended soup back to the pot and add in the coconut aminos, vinegar, lime juice and fish sauce (if using). Add the lentils and cook on low for another 5 minutes.
Serve with brown rice, quinoa or cauliflower rice, avocado, cilantro, coconut/greek yogurt, toasted coconut.
Are you a soup person? What types of soups do you want to see?
JOIN THE THM NEWSLETTER
Join 8000+ members of the THM Community to get access to exclusive recipes, healthy lifestyle tips and behind-the-scenes news from our team!
Success! Now check your email to confirm your subscription.